The 2021 Subaru Love Promise Customer Commitment Award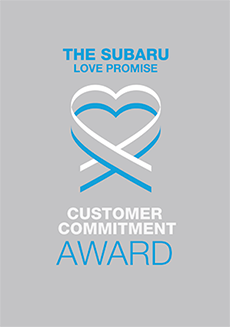 We've been nationally recognized for our dedication to our customers and the Subaru Love Promise.
We're honored to receive the 2021 Subaru Love Promise Customer Commitment Award. This award nationally recognizes Subaru retailers who demonstrate excellence in all areas of customer-focused performance. It highlights exceptional customer service that builds lifelong relationships with Subaru owners.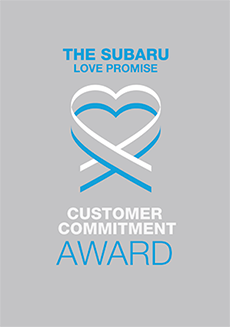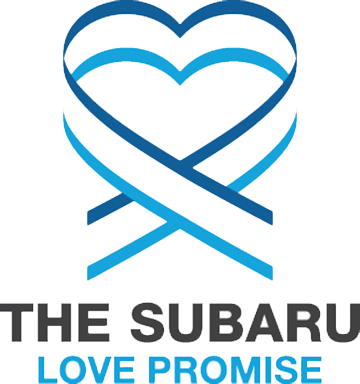 What is the Subaru Love Promise?
Subaru and our retailers believe in making the world a better place and the Subaru Love Promise is our vision of respecting all people. This is our commitment to show love and respect to our customers and to work to make a positive impact in the world.
How is Elk Grove Subaru dedicated locally to the Love Promise?
Our Love Promise can be seen in various partnerships with local charities and non-profits. We're grateful for the opportunity, not only to be a part of our community, but to serve it as well.
Front Street Animal Shelter, Alpha K-9 Dog Training, Sacramento SPCA
NPR The Garden:Healthy Eating. Healthy Communities
Love Promise Stories from Elk Grove Subaru
Subaru and Elk Grove Subaru believe in making a positive impact on the communities in which we live and work. We uphold that belief through our Love Promise Community Commitment. Every month, we select inspiring stories from customers and partners from around our area who strive to support our collective commitment and feature them here
Lasher's Elk Grove Subaru Provides Independence - Angie E
Steve Olinger of Kelseyville, California is an active husband, father, and teacher. He also has hereditary spastic paraplegia (HSP), a progressive gait disorder. Over a number of years, Steve experienced a gradual decline in his ability to walk. He has always wanted to be as independent as possible, and never liked having to rely on people to help him. About three years ago, he started using a wheelchair and decided to apply for a service dog from Canine Companions. Canine Companions provides expertly trained service dogs to people with disabilities, free of charge. He hoped that this dog would give him the ability to continue the job he loved as an elementary and middle school special education teacher. Shortly after his initial application, a special puppy was born. Named in conjunction with Canine Companions' longtime partner Lasher's Elk Grove Subaru, Promise spent her puppyhood in the loving care of one of Canine Companions' amazing volunteers. Promise also became the latest Canine Companions service dog in training to appear in commercials with Lasher's Elk Grove Subaru General Manager Vince Bloom. These commercials, which have featured these pups since 2016, spread valuable awareness of Canine Companions' mission in the Sacramento area and beyond. Once she was old enough, Promise went to Canine Companions' Santa Rosa, California campus for professional training. There, she learned a variety of tasks to enhance independence for a person with a disability. Steve and Promise officially became a team on November 13, 2020. Promise is a consistent presence in Steve's life and a ready helper. She opens doors, picks things up that Steve drops, and lifts gate latches to make traveling between schools easier. Steve says, "If I need help, she'll help me out." Beyond the physical assistance, Steve shares that it is wonderful having a dog as a companion. Whether at work, at home, in their community, or traveling, Steve and Promise are true partners. Many thanks to Lasher's Elk Grove Subaru for making this match possible.
---
60+ animals find homes at the Sacramento SPCA! - Kristi M
Thanks to Lasher's Elk Grove Subaru, Subaru USA, and the ASPCA, 69 dogs, cats and small animals found new homes during our 3-day Subaru Loves Pets adoption event in October 2020. Realizing a traditional, mega-adoption event would not be possible this past year, we tested a new process. In an effort to streamline pet adoptions for our community and help find more homes for the animals at the shelter, we updated the adoption process to scheduling using a web-based application. Appointments were scheduled online for a seamless adoption process that kept everyone safe and protected while finding their new furry family member. The new online adoption appointment process worked so well for the event, we have now adopted it as our new adoption process moving forward into 2021. In partnership with our local Subaru dealership, the Share the Love promotion also raised $17,313 for the animals at the Sacramento SPCA. We are so thankful and appreciative of this partnership both at the National and Local level. Thank you for helping us save more lives. To learn more about the Sacramento SPCA, visit sspca.org.
---
69 Animals Find Homes! - Sarah H
Thanks to Lasher's Elk Grove Subaru, Subaru USA, and the ASPCA, 69 dogs, cats and small animals found new homes during our 3-day Subaru Loves Pets adoption event in October 2020. Realizing a traditional, mega-adoption event would not be possible this year, we tested a new process. In an effort to streamline pet adoptions for our community and help find more homes for the animals at the shelter, we updated the adoption process to scheduling using a web-based application. It worked so well for the event, we have now adopted it as our new adoption process moving forward! One of our favorite adoption stories from the event is Tiger. The sweet 8-year-old came to the Sacramento SPCA after her owner had passed away. We featured her on multiple media outlets as our 'pet of the week', but there was very little interest in the playful lady. Thanks to the Subaru Loves Pets adoption event, Tiger found the perfect family! Tiger's family wrote, "Thank you! Tiger is a sweet girl. We love her!" The Sacramento SPCA is grateful for the continued partnership with Lasher's Elk Grove Subaru. On behalf of all of the animals you have helped, thank you!
---
You Shared Your Love With Us! - Jim H
Friends of Front Street Shelter sends its appreciation, gratitude, and love to Elk Grove Subaru and your many satisfied customers for their donation of more than $33,000 from the Subaru Share the Love event! Your donation will go toward many projects that improve the life for pets and pet lovers in our region. The timing of this gift couldn't be better for an important responsibility we've taken on during this time of COVID-19. Since this crisis began, volunteers have saved feral kittens that need to be spayed and neutered now that clinics are reopening. Because of these selfless volunteers, these kittens won't contribute to the overpopulation of feral cats and face an early death. They were removed from the field early enough to become happy cats who will be adopted into loving homes. Friends is helping to make this possible by paying for spaying, neutering, and vaccinations. For many years, Front Street has provided free pet food to disadvantaged and homeless pet owners in our Pet Food Pantry. A grant that supported this program has just run out. Friends is stepping in to improve the Pet Food Pantry and ensure it doesn't run out of food for needy pets. With the help and encouragement of Front Street's manager, Phillip Zimmerman, we are creating a program to prevent pet owners from surrendering pets to shelters because they can't afford needed veterinary care. These surrenders are all too common, stretching shelter resources to accept these hapless pets and depriving pet owners with limited resources from enjoying the love and emotional benefits of a pet. As always, your donation helps provide medical care to pets who come to the shelter with life-threatening injuries and illnesses. You have made it possible for Front Street to give these pets a chance at life. We couldn't have done it without support like this from our wonderful friends at Elk Grove Subaru and your loyal customers who shared their love with us!
---
Rainbow Chamber Loves Lasher - Fred P
Rainbow Chamber loves Lasher. Each year with the support of Lasher and our Farm 2 Scholar dinner we are able to give away student Scholarships. Rainbow chamber and our Foundation has awarded over 100,000 to local students.
---
Elk Grove Subaru Share The Love Promise - Linda Y
Christmas came early to kids at Shriners Hospitals for Children — Northern California. Thanks to the generosity of two local organizations, kids were all smiles when Santa arrived at the hospital's annual Christmas in July party with art kits for kids in his bag of gifts.The art kits were donated as part of the Share the Love campaign coordinated by Elk Grove Subaru in partnership with the Greater Sacramento Chapter of the Leukemia & Lymphoma Society. Representatives of both organizations delivered the donation to the hospital along with 80 blankets for Shriners Hospital patients."We are so fortunate that we have so many donors from our community that make not only one but two Christmases possible," said Erin Cloughesy, activities coordinator. "Art is an important part of the healing process, as it allows patients to express themselves in a creative way. The art kits we received were the perfect gift that put a smile on every child's face. Even our special guest visitors, Princess Anna and Queen Elsa, had a blast coloring with the kids.""We give blankets to every child who stays the night with us. They brighten up the patient rooms and add so much personality, giving kids control over their space," Cloughesy added."We love the opportunity to give back to our community through the Share the Love campaign," said Linda Yao-Chin, senior campaign manager for the Leukemia & Lymphoma Society. "Elk Grove Subaru is so enthusiastic about helping kids in our community, and their enthusiasm reminds us of why this campaign means so much to us," she added.Donations support Shriners Hospital in its mission to transform the lives of children. Material donations of toys and other gifts are used in the central play area, the hospital school, and are given to patients as birthday and Christmas gifts.
---
Subaru & Sacramento SPCA - Sarah V
The Sacramento SPCA is proud and thankful for the support from Elk Grove Subaru! Not only do they support two of our biggest fundraisers of the year (Doggy Dash & our Fall Gala), they have also picked the SPCA as the beneficiary for the Share the Love event for 2018. During the Share the Love adoption special on December 2nd, they sponsored the adoption fees for 25 dogs who found their new families that day!
---
Hugsey Finds A Home! - Shala T
We adopted Hugsy at the Free Adoption event with Subaru on 12/02. What an amazing experience! And we left with a new family member. He's definitely being spoiled.
---
Subaru Donates Blankets, Craft Kits to Shriner's - Erica B
On Monday, July 9, 2018, The Leukemia & Lymphoma Society (LLS) partnered with Vince Bloom and his team to deliver 80 blankets and 25 arts and crafts kits to patients at Shriner's Hospital for Children in Sacramento. As part of the Subaru Loves to Care partnership, Subaru also provided several messages of hope, written by customers, to be distributed with the blankets. This was our third year in a row partnering with Elk Grove Subaru and Shriner's Hospital! Honored Hero Omar (leukemia survivor) was able to join Subaru and helped unload the car, push the boxes in and shared a little of his story (and a lot of his love for LeBron James and the NBA!). Vince gave Omar a special gift at the end for being so strong, brave and an overall great kid. He enjoyed getting to know Omar! Caitlyn from Shriner's had brought a Thank You Subaru sign that she and the patients drew and decorated to give to Subaru. She, on behalf of the hospital, was so thankful and grateful for the delivery once again!
---
Christmas in July at Shriner's Hospital - Sydney G
On Thursday, July 13, a few Leukemia & Lymphoma Society (LLS) staff members met Vince Bloom "The big guy at Lasher's Elk Grove Auto Mall" to deliver blankets and craft kits to children at Shriner's Hospital in Sacramento. As part of the Subaru Loves to Care partnership, LLS staff was happy to work with Elk Grove's Subaru dealership and bring blankets to Shriner's for the second year in a row. Our contact at the hospital mentioned that they are doing a surprise "Christmas in July" for their kids, so our timing was perfect! Also an additional surprise when we opened the boxes and found about 10 sets of headphones – perfect for their teenaged patients. We are so happy to partner with Elk Grove Subaru, and look forward to continue bringing "Christmas in July" to patients in our region.
---
Subaru Love Promise Begins With Elk Grove Subaru - DONNA S
Inspired by Sacramento's own Capital Public Radio's CapRadio Garden at Sacramento State University and their monarch butterfly habitat, Elk Grove Subaru has partnered with the National Wildlife Federation Butterfly Heroes program to bring nature to Elk Grove and Sacramento elementary schools. All butterflies need host plants for their caterpillars to eat. Monarchs feed on nectar, so planting plenty of native wildflowers is key to providing nectar from spring, through summer and into fall. Milkweed is another plant that is vital to monarch caterpillars, and without it, monarchs can't produce the next generation. Elk Grove Subaru will be donating hundreds of seed packets for both flowers and milkweed to area elementary schools so they may create, use and maintain their own schoolyard habitat for monarchs. The flowers and plants the children watch grow will attract monarch butterflies and other pollinators, both absolutely essential to the environment. The school kids will be creating their own outdoor learning classroom that will teach them invaluable lessons in nature.
---
Elk Grove Subaru "Top Gear" Leads the Way - Judee D
Sharing the love at the California State Capitol on August 1, 2015 more than 425 cyclists & over 100 volunteers gathered at the Capitol Dome under the full moon to help foster youth. The 2nd Annual Lunar Lunacy Ride was officially kicked off by the official start car, a Lasher's Elk Grove Subaru Outback. But Elk Grove Subaru did more than start the ride, they were the major sponsor, arose early in the morning for TV pre-event publicity, publicized the ride & had a great group of riders join the fun and made it possible to nearly double the funds raised last year to support foster youth served by CASA-Sacramento & other local children's charities. Their generous "Top Gear" sponsorship will change kids' lives! Lunar Lunacy Ride loves Elk Grove Subaru's commitment to the children of Greater Sacramento.
---
Adoptable Puppy Love at Elk Grove Subaru - Cynthia P
Over the years Elk Grove Subaru has partnered the Sacramento SPCA, Alpha K-9 and the Sacramento Front Street Shelter. Dasko, the German Shepherd from Alpha K-9 service dog training center has become like a mascot and been featured in many commercials. Elk Grove Subaru has recently highlighted adoptable puppies from the Front Street shelter in their current summer television commercial campaign called Puppy Love. The response from the community has been overwhelming, with calls and letters thanking us for including the puppies. Not only were the puppies from the shelter adorable, they were adopted right away. Cheddar the Chihuahua and his sister KeeKee were adopted by people from both the advertising agency and Elk Grove Subaru. The Puppy Love commercials have highlighted our Love Promise said General Manager Vince Bloom. We are proud to support all our animal rescue charities.
---
Lasher Elk Grove Subaru Loves the Earth - Sean J
Lasher Elk Grove Subaru is a Subaru dealership that prides itself on keeping the Earth green. During the month of April we asked our customers and the citizens of Sacramento to partner with us in the Subaru Loves the Earth e-waste program. The community at large was asked to recycle their electronic waste at our stores for proper disposal. As a thank you participants earned the opportunity to win the chance to have their garbage bill paid for an entire year! "We are truly thankful for our customers and the community's efforts to keep things green," said General Manager Vince Bloom.
---
Elk Grove Subaru Loves Alpha K9 - Cynthia P
Elk Grove Subaru Loves Alpha K9, the non-profit organization that trains and donates service dogs to injured veterans with Post-Traumatic Stress Syndrome. Many local vets have benefited from the unique service that only Alpha K9 provides. Since their foundation Alpha K9 has placed over 500 Service Dogs stretching across 32 states and Canada. And now they'll be able to help many more. Vince Bloom, General Manager of Lasher's Elk Grove Subaru presented a check for $15,627 to Kevin Cameron, CEO of Alpha K9 for money raised during the Subaru Share The Love Event held November-December, 2014. "We are grateful to Elk Grove Subaru for their continued support. This donation will really make a huge difference in the lives of many veterans," said Kevin Cameron. "We are proud that the work we do will continue."
---
Elk Grove Subaru Plants Seeds Of Success! - Kevin C
Elk Grove Subaru has helped plant the seeds of success and health for Sacramento students and Central Valley citizens by sponsoring Capital Public Radio's community project: "The Garden". Growing concerns for the health of our community both physically and financially are all rooted in our food. Sacramento is part of one of the richest agricultural regions in the world-growing approximately 50% of the fruits and vegetables that America eats. To help bring about public awareness to the issues regarding food Capital Public Radio has planted a garden with the help of Elk Grove Subaru. This state-of-the-art vegetable and fruit garden is located right outside the broadcast headquarters and is dedicated to health care and education (food literacy). Sacramento school children will have a chance to roll up their sleeves and dig in the dirt; to learn what healthy food is, how it grows and where it comes from. Eight schools located primarily in South Sacramento (an area that has struggled with unemployment and poverty) have been chosen to participate. They are: Pacific Elementary, Leonardo da Vinci School, Grant High School, Camellia Basic Elementary, American Legion High School, Cristo Rey High School, Harmon Johnson Elementary and Noralto Elementary school. "It is our hope to better the health of our community and participate in the education of our youth,"said General Manager Vince Bloom.
---
Alpha K9 Service Program & Elk Grove Subaru - Terra N
Local Marine Tony Ray Wise, Jr. is a veteran of the Iraq war. For his service and heroic actions during combat Tony was awarded the Navy and Marine Corps Achievement Medal with the combat distinguishing device Valor. However, after returning home Tony was diagnosed with Post-Traumatic Stress Syndrome. At least 20 percent of American veterans of the Iraq and Afghanistan wars suffer from PTSD. Over half don't seek treatment. Elk Grove Subaru sponsored a special event, Alpha Dog K9 Competition. It was here where Tony and Ken, a specially trained PTSD service dog were paired. Alpha K9 is a non-profit organization, based in Sacramento, CA, whose mission it is to save lives one dog at a time by providing highly skilled and effective Service Dogs and Working Dogs. The event raised over $1,200 dollars. The recognition brought by Elk Grove Subaru, allowed Alpha K9 to raise additional funding that helped them donate 208 services dogs! Not only were Tony and Ken teamed up but 203 other veterans were also able to start a journey of recovery. Today Tony's life is changing for the better. I would like to thank Vince Bloom and Elk Grove Subaru for their dedication to this cause said Tony. In 2014 Lasher's Elk Grove Subaru donated $20,000 dollars and five service dogs to Alpha K9.
---
Elk Grove Subaru Partners With Sacramento SPCA - Anna Z
Caring for and creating shelter for animals is a "pet" project of Elk Grove Subaru, part of the Lasher Automotive Group. With their sponsorship of the 3rd Annual Polo Classic benefitting the Sacramento Society for the Prevention of Cruelty to Animals they have been able to help animals get the care they need. Their elite fundraiser for the Sacramento SPCA provides an experience most people can't get locally anywhere else and comes complete with the excitement and regalia reminiscent of royal polo matches. The Polo Classic is a major fundraiser for the SPCA. This year they raised over $80,000 dollars. With the monies raised through this event the Sacramento SPCA aims to complete their own "Field of Dreams". The dream for the future is a plot of land slated to include a behavior and training/education center; dormitories for visiting veterinary students and much more. The Sacramento SPCA is a local, independent non-profit organization that does not receive government funding. The funds needed to help both homeless and owned animals in need are raised through donations and events like that of the Polo Classic. Their mission is to foster a loving and compassionate community for animals and people by providing assistance, creating lifelong relationships, and saving lives. "We at Elk Grove Subaru always looks forward to the Polo Classic and in turn time helping our local SPCA," said Vince Bloom, General Manger of Elk Grove Subaru.
---